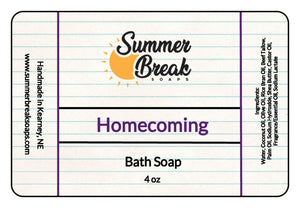 Homecoming Bath Soap
The depth of lavender has been something that has intrigued me since I started experimenting with scent making. Homecoming seeks to draw out an accentuate some of the darker elements in lavender. Scent notes include lavender, black pepper, neroli, coriander, vetiver, and cedar. Make no mistake, lavender is the star here, but the other notes bring earthy, spicy, and dark notes to the table resulting in a complex and versatile scent.
Our bath soap is formulated to be a long lasting bar that will leave your skin feeling fantastic.

Ingredients:
Water, Coconut Oil, Beef Tallow, Olive Oil, Rice Bran Oil, Palm Oil, Sodium Hydroxide, Shea Butter, Castor Oil, Fragrance/Essential Oil, Sodium Lactate


Please discontinue use immediately if skin irritation occurs.
---